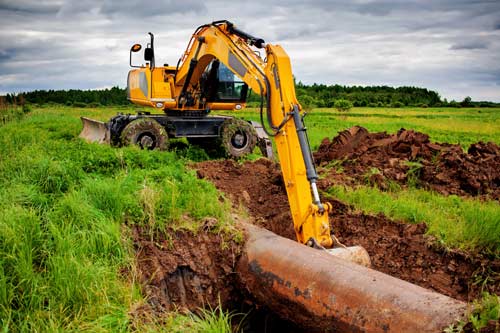 February 1, 2018 4:11 pm
6 Comments
If you're an independent general contractor, you probably have, at the very least, the most useful and basic tools in your tool kit and truck, including power saws, a nail gun, hammers, screwdrivers and more. However, you may not own large construction equipment due to a lack of storage space or the fact that you simply don't need it for every job. Instead, you might rent it when you need it. Before you do, here's why it's important to choose the right size heavy equipment rental in Franklin, NC for your project:
Get the job done right
Selecting the right construction equipment is essential when you have a job (or several) on the schedule, but it's especially important for big jobs. Bigger jobs require more time to complete, so having the right equipment right off the bat is a must to avoid losing time and money. Not all construction vehicles and equipment have a universal purpose, plus the equipment operator needs to know how to properly use the machine to ensure safety and efficiency. Get the right heavy equipment rental, and get the job done right.
Get jobs done in less time
When you choose the equipment rentals you actually need, you can turn a large and labor-intensive job into one that's relatively quick and simple. This is thanks in part to the equipment—such as backhoes, excavators, bulldozers or other pieces—that can replace manual labor for many job tasks. Using a heavy work vehicle like a forklift, when controlled by a trained operator, is a safer and faster way to lift oversize or bulky materials.
Reduces the rental time
How long you get to keep the rental depends on the agreement you made with the equipment rental company. By choosing the exact piece of heavy equipment you need from the start, you can avoid paying for extra rental time. The right rental is also likely to increase productivity. Furthermore, it can do the job in a timely manner, while the wrong size tools and equipment can take more time, or not be capable of completing the job at all.
Less chance of problems
A stump grinder that is too big to get into the work area comfortably, an excavator that's too small for the project at hand—these are examples of issues you can run into when renting the wrong size construction machines and equipment for a job. On the other hand, rent the right size pieces and you'll reduce the chance of damage to the equipment or portions of the worksite.
Get the most bang for your buck
Bringing a rented machine to your project that is not the right size could mean having to exchange it for a different one—but it's likely that you'll have to pay for the time you had it in your possession. To get the best bang for your buck, scout out the job site ahead of time so you know the exact size and type of equipment that'll work best.
Come to Koster Equipment Sales & Rental LLC for your next construction equipment rental in Franklin, NC—we have everything you're looking for!
Categorised in: Equipment Rental
This post was written by admin